A few weeks ago, I sat down with Tibetan lama Tenzin Wangyal Rinpoche, and he shared an ancient method for transforming uncomfortable sensations and emotions into pure energy and deep wisdom.
If you don't feel occasional discomfort or pain in our body, I want to know your secret 🙂
For the other 99.99% of us, the information that this mystic from the Himalayas shared was a much-needed dose of ancestral medicine that anyone can apply to their life right now.
(Scroll below to watch the full video interview – or you can read the full transcript of our talk at the bottom of the page.)
In Rinpoche's tradition of Bon Buddhism, the feelings that we associate with suffering are seen as harbingers of important information, or feedback, from our mind and body.
The first thing he did was challenge me to look closer at this sensation we westerners have labeled as "pain".
If you think about it, pain is a normal and unavoidable part of the human experience that we find ourselves in. Every single one of us experiences it at semi-regular intervals as we walk through the world, but very few understand how to work with it.
A cultural blind spot seems to have developed in the west, a notion that our emotions and physiologies shouldn't "act up" or cry out to us when they're hurting.
But is it possible that these sensations hold a deeper message for us?
In the video below, you will learn:
How to use the light of your awareness to transform uncomfortable sensations and emotions into pure energy and deep wisdom.
The "3 precious drawers" for accessing intuition and holding space for whatever life brings.
The healing power of the "spacious, luminous, warm hug."

This teaching from Tenzin Wangyal Rinpoche blew us away. He's been an inspiration to me since first encountering his teachings about five years ago and I've been hoping to have the opportunity to present his wisdom to the Sacred Science community ever since.
I hope you find as much power in his words as I did.
Stay curious,
Nick Polizzi
Founder, The Sacred Science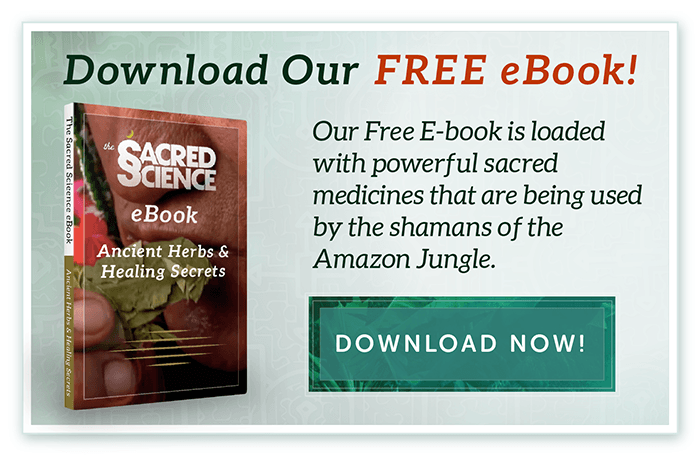 Full Transcription:
Nick Polizzi: Hi, this is Nick Polizzi from the Sacred Science and I'm here today with a man who is known throughout the United States, Mexico and Europe for his powerful teachings on matters of the spirit, and essential wisdom on how to live a more awakened life. He's a recognized master of the Bon Buddhist tradition of Tibet and the founder of the Ligmincha Institute which now has over 35 centers around the world. His name is Tenzin Wangyal Rinpoche and today we are going to be delving into a topic that is at the core of the inner healing path. We'll be discussing how to turn your pain into the path. Rinpoche, it's an honor to be here with you today. How are you?
Tenzin Wangyal Rinpoche: Wonderful. Thank you. Thank you so much. Very happy to be here.
NP: You're in Berlin right now?
TWR: Yes. I am in Berlin and actually I've been here for the last five weeks. Now today's my last day. I'm flying back tomorrow to San Francisco.
NP: Oh my gosh. You travel quite a bit, right?
TWR: Yes, I do.
NP: Was that accurate, you have over 35 centers around the world?
TWR: Yes. We have different sized centers. We have places where there's a retreat center, places there's only a city center, places where there's more practice groups. Yeah, we're kind of spread out. Yes.
NP: Oh my gosh. Rinpoche and I had lunch about maybe two months ago in Berkeley and I remembered the first thing I said to Rinpoche was, first of all, how much of an honor it was to meet you in person and secondly that I met you online without you realizing it maybe three or four years ago from one of your many YouTube videos because you have an incredible array of YouTube videos that really dive deeply into all the spiritual work that you do and it dovetails so nicely with what we do with the Sacred Science and shamanism that it just felt like I had to try to reach out and see if we could arrange an interview like this. Really an honor to be here with you today.
So can we just kind of start with this idea of, in the western world we try to resist and hide from suffering. We do whatever it takes to not have to deal with our stuff, to not have to feel that discomfort. Could we just start with something really basic and just talk about how the path really is about turning towards that and understanding it better?
TWR: Sure. I think let's say in the Bon tradition, in the Buddhist Tibetan Bon Buddhist tradition, which is very much based on the spiritual path, practices, ultimately working toward liberation or enlightenment. In order to do that clearly Buddha was awakened because of recognition of his own suffering and his own pain and in our teachings, particularly the teachings of what we call the path to transformation or the teaching of the path of great profession. These two approaches of school, one talks more about transformation of pain or one talks about the liberation of pain so it's kind of a little bit different.
We sometimes give a metaphor of a poison plant. If you are a doctor then you would transform that same plant, boil it, cook it, dry it, whatever you are doing and mix with something else and then that substance, the poison itself becomes a medicine after you transform it as a doctor. Some of us, we prefer that way, that approach so somehow we work with our body, we work with our energy, work with our awareness and try to figure out to change the same emotions, raw emotions into a pure energy, into a wisdom.
The other approach is a more what we call a peacock approach. The peacock approach is basically not an approach of the doctor. The peacock basically eats it. It's not trying to change anything. It just eats it as it is and the peacock is able to do that because the peacock eats the poison. What poison does to the peacock is just basically makes it stronger, more healthier, more beautiful. The feathers brighten and so on. Somehow the second approach is that we are also capable of really transforming our pain simply by being present, simply by being awake, simply by not judging it.
I always give the example of my phone which is here. If you look at it like this, this is my awareness. The metaphor is this is like awareness. This awareness is not trying to change anything, this object. It's just basically illuminates the darkness. It illuminates the object and regardless of how long, 1,000 years of darkness or one hour of darkness, this light does not ask questions, does not distinguish anything. It just illuminates equally. Deep inside our awareness when it also turns back inside yourself, that we call self awareness. Thought all of your areas of darkness, it is able to illuminate your inner wound, inner darkness, inner conflict, confusions.
It's able to illuminate just being purely conscious of it rather than manipulating anything with your conceptual mind, which is what very often in the West, there's a lot of talks about a positive thinking, law of attractions and somehow it's like of course what you think, all day what you're trying to attract, that will definitely attract. Somehow also it's some kind of little suggestion there that if you really wanted to be rich, you just have to desire, think a lot about how to become rich. If you really wanted to achieve liberation then you have to think a lot or desire a lot or want a lot and then you will achieve liberation. That's totally wrong.
In a way, how we enrich our lives, how we awaken ourselves is not by conceptualizing, manipulating our thoughts and emotions. It's not about that. It's not about conceptualizing with our thought and manipulating with our thought. It's more being aware and conscious with what we call non-conceptual awareness, non-dual awareness or pure awareness. It depends on what you cal call rigpa, awakened awareness. Being more aware of that, I think that's something I think is very less spoken, less understood and even sometimes some great teacher speaks about them and very inspiringly speaks about it but only it's inspiring to hear it and feel the presence of somebody speaking about it but still they may not have any clue what that is. That is also going on a lot.
I think this is basically two main approaches where that really what it is, whatever the pain it is, without suppressing it, without avoiding it, going directly into it, recognizing it, it can become your path.
NP: This seems like a natural thing that we would as humans want to do, using this pure awareness to see the world and using this pure awareness to look within ourselves and feel ourselves. Why is it something that is not really very natural in us anymore? Was there a point in time when we as humans were pretty much living this way and we've kind of moved away from that or is it something that really is not inherent in us humans and that we actually need to try for?
TWR: Yeah. I think probably one of the reasons maybe is that because deep inside, that awareness is so unfamiliar, that what we call unbounded space, the openness is so unfamiliar. We are so familiar with the bounded self. We are so familiar with our conditions. We are so familiar with our comfort zones, our limited point of view and we see through them. We exist through them. We operate through them so the idea of something else, it's probably a little bit too much. If you wanted to do anything we wanted to do with the same pain, like the same thought, same concept to go break it. To be a peacock is difficult. To be a doctor is easier.
The third one, which I did not say this before, what we call the path of renunciation, which is what most of the people do, run away from it.  Like a child, like an ordinary person who is not doctor or who is not a peacock. The only thing you'll do with the poison, run away. Hide it. Put it somewhere, nobody can touch it, especially the children cannot touch it so that otherwise you die. Basically instead of pain becoming your path, we die. We suffer through our pain. That's one thing.
Another thing is people who have some sense of a little bit of experiencing awakening – they do have this awakening of when they are able to connect with themselves, at least for stabilizing themselves, calming down themselves by focusing on their body, what I call three precious pills or three drawers. By bringing attention to their body, for example, when you bring your full attention to your body, then you can just feel a sense of stillness. If your body is still and you're bringing your attention to that you'll feel that stillness and then slowly you'll rest there. When you rest deep enough in that stillness, that stability, that connectedness, that groundedness, that makes you stronger. When you feel stronger you are more likely able to face your pain because from that place of stillness, from that place of boundlessness or less boundaries you are much more open. You feel much more confident, able to see something directly.
When you look at something directly like your pain, at that very moment the view of the pain is different. People say, "Wow, it doesn't look that bad. Wow. I feel okay with that. I can live with that. I don't feel the pain. I feel free. I feel I can still enjoy myself. I can still feel joy even though I'm feeling sadness. I can still feel some sense of trust even though I am feeling fear. I can still joke even though I am feeling a little depressed." Somehow able to experience their own inner quality even through those pains. That's kind of really the magic there. It's kind of when you get to that place you are able to see both at the same time. In our teachings and practices we call integration. We call it ornament because your pain becomes an ornament to you. Poison becomes the medicine for the peacock. Your pain makes you strong, basically.
I sometimes tell people, "Look at your life. How many times have you suffered? Even you no longer suffer, you've suffered. How many pains have made you grow? Made you recognize? Make you discover things? Make you understand things? Make you realize and enrich your life? Make you be more careful? How many times has the pain had enriched your life?" People look back. They say, "Of course, there are many, many times it happens but not that often." Very often what happens, pain just remains pain. Pain sometime destroys you, weakens you, discourages you. You lose your trust. You lose the ability of creativity so you lose all those things. In those cases pain just becomes complete waste, more like damaging situation. Pain has both qualities and we kind of need to really trust that pain can be your best friend if you want to be.
NP: This word pain is really interesting to me because it feels like it's one of those blanket terms that is kind of slapped on a lot of different more intricate sensations that we might be feeling as individuals. I wonder, in your tradition and your practice, is there a way of drilling down and getting past that one word? That word, it's a pretty negative word and it's sort of covering up a lot of sensations. I had terrible migraines for a while and one day I decided to really experience the pain and I realized it wasn't really pain. It was just a lot of different sensations trying to course through me at the same time and when I started actually trying to understand them and appreciate them, the pain, I untangled it and got rid of my lifelong migraines. I see pain as something a lot more intricate than this one word.
TWR: I think maybe also when we think about pain, we think not only physical pain. I think it's important. You can have psychological pain, conceptual pain. You can have more emotional. You can have physical. Pain has much more sense of being open. Let's think about like a physical pain, for example. Let's say I have some problem in my chest, for example. Usually our relation to that pain is in my chest or in my heart, or heart chakra – I usually I don't draw attention there. I ignore my heart area. This is the location where I said, "No, okay. It's there. I know it's there," but I don't pay attention. I don't bring my connection there. I don't bring my sense of peace. I don't bring my sense of warmth, gratitude, gentleness, sense of being there. My favorite example is just my awareness, just bringing attention there and just illuminating that heart chakra with my awareness.
In that very moment, this awareness has the power to open my heart. Awareness has the power to heal the pain. We don't do that but what we usually do is not bring attention there. The only time  we bring attention there is when we are in pain. We say, "Oh, what is this?" Immediately a very negative kind of look toward your heart, toward that location, toward that chakra, energy center, negative location. If it happens again then fear, then anxiety, then kind of getting angry, upset and then basically at some point even say, "I hate this pain. I hate my heart chakra. I hate." You don't literally say that but that's kind of attitude you have. If you think about this area, I said, "I hate this pain." To hate pain is very much related to this area, experiencing a sensation there and when you say hate, you are hating yourself. You are hating the location. Nobody likes to be hates.
That in some sense I think makes the pain, makes the sickness, makes the blockages worse. What we usually say is look at that. We say give a spacious, luminous, warm hug. This is the term that I use, hug. Three things I say, spacious, luminous, warm, hug because these three things have a very unique quality deep in the philosophy, in meditation and also it's like a medicine. Spacious, it has to do with opening or openness. If you're not open, you can't give a genuine hug to anybody unless you're open to that person. You've got to have openness. You need to be open toward yourself, that sense of I am open to myself. I am open to my heart. I am particularly open to my heart because I am not well in my heart. The first quality.
The second quality will be luminous. Spacious, that's space. Luminous is the awareness. Again, this is it. This is the awareness, luminous. Here nobody can avoid the luminosity here. The light is still shining there in my heart. I'm aware of that but people will not see it. That's the second quality.
Warmth, when you're open, when you're connected there is a warmth. The quality of warmth is sometime like a heat, sometime you can take from terms in yoga. They talk about kundalini, awakening. Sometime it's like a kind of medicine you produce in the body through the movement yoga, breathing. This heat, this warmth, physical heat and energetic heat, psychological, emotional warmth, they are like medicine, pure medicine.
When you bring these three qualities toward your heart, your pain in that very moment begins to shift the energy. You can just, within minutes, you can feel it's shifting. It's shifting your relation to it because you are not avoiding it. You are being with it. You are being present. You are being aware. You're connecting to it. When people do that, we have done some research that people have reduced their pain over 30% within a couple of weeks. They're able to reduce their physical pain. It's not just psychological pain but physical pain so it's really, really powerful.
NP: Some people, they have pain in their body, they have depression, they have deeper pain. How do you as someone who's starting, it's easy for us to say, "Pain is the path, here's how to do it," but where do you start? If you're someone who's just coming, say you're watching this right now and you're like, "Okay, this sounds really great but I wouldn't even know where to begin with this," how do you start? What's square one?
TWR: Yeah. Maybe what we can do is we can do maybe a short guided meditation.
People can look this short guided meditation as exactly what you would do if you're by yourself. You just listen to this or you will just remember to do this and that will be fine.
NP: Yeah. That'd be great.
Guided Meditation
TWR: First, sit comfortably, whatever position you are in, comfortably. You can close the eyes or open eyes, whatever you feel is comfortable. Maybe close the eyes for now. Bring your full attention inward. Maybe take three to five deep, conscious breaths and through this breath, through these breaths, release out whatever you're holding this very moment, any discomfort in your body, any energetic discomfort, any discomfort in your mind. Whatever discomfort you are feeling, just breathe it out deep. Breathe it out, and at the end of the exhalation, connect to yourself and rest deeper. Repeat three to five times.
Be aware of the stillness in your body. Be aware of the silence around and within you. Feel that stillness. Feel that silence and rest deeper, deeper in that stillness and silence.
Now just for a moment, be aware of the challenges that you are facing this moment in your life or, if it's a physical pain or particular sickness, be aware of that. Either it's physical or emotional, be aware of those pains that you are facing. Maybe some of you are avoiding it. Some of you are trying to deal with it but finding it hard.
For now, just look at that pain or challenge. Either it's physical or emotional. From this place of openness, you are open to it. That pain, in a way, you are identifying with that pain. In a way, that pain is asking you to help. Being open, being aware and being caring like warmth toward that pain, self compassion from that openness, from that awareness. Like you would be gentle, be kind, be present with someone, your best friend. If your best friend is in pain you will be present there. You will be gentle. You will be kind and sending warmth but do the same toward yourself.
I repeat these qualities, specific qualities: being open to it, being aware and connecting with it, and sending a sense of warmth. I call it a spacious, luminous, warm hug to that pain. Either it's a physical or emotional self compassion. Just hold that. Connect and continue being there, connecting, being in that warmth, and connecting continuously.
Just feel this continued sense of being very open to it, very aware and connected to it. There's a lot of warmth, the healing of warmth – you're ascending toward that pain…toward yourself, like you would do towards your best friend. Continue.
Interview (continued)
Okay. Of course we did a very short session here but you can just go on for another half an hour like that. Just begin with resting in your body and resting in that stillness, resting in that silence, resting in that spaciousness. That means resting in your body, your speech, your mind will be the three drawers, and rested enough that you have a different view. You see different. You see more clearly. Then you look through your pain rather than ignoring it. When you look at it you see different. If you rest it enough you see it different. It's a different view. From that place, that openness is there. When you see more clearly, the presence is there, that awareness is there, that luminosity is there.  When these two qualities are there,  there is a natural sense of warmth there you're holding.
It's like you're giving this beautiful hug toward your friend who needs it the most in that moment, and just kind of holding, holding that hug. With the presence of that beautiful hug you're holding toward your friend, in the same way you hold that same beautiful quality hug. So much space, so much light toward your pain either the physical or emotional. When you do that you will see the response from the emotion, the response from the pain, where you will see the differences. It's like your friend who might cry tears of gratitude, tears of joy, tears of connection, tears of being helped.
In the same way, your own sense of inner self and the pain identity in a wound, maybe you feel tears coming out. Maybe you feel the healings are coming out. Maybe you feel really supported and for different people they might have different experiences but all experiences are around the sense of being acknowledged and connected, rather than being ignored and disconnected.
NP: Yeah. Even as we were doing that I had a little bit of pain in my neck and I was like, "Okay, I guess I have something here I can work with." I've never heard you talk about the spacious, luminescent, warm hug and I was just doing that and there was information. There's information that comes back at you from that pain and it was pretty amazing. A lot of times it's more of a deeper – the way you're living your life kind of information – like, "Oh no, there's something that you're missing here about your life that the pain wants you to understand." It makes me wonder, what is the pain? What is the pain? What is it?
TWR: The pain is basically a manifestation of disconnectedness from yourself. For example, let's think about a sickness, sickness like something that manifests in your body. That sickness is basically coming out of a long period of charged negative emotions, stress, tensions, it's kind of producing that, what we call negative poisons. Let's say heart disease, for example. I'm not saying that every heart disease has to  specifically follow that road. There are many heart conditions together but one example will be that heart condition could be caused by (and  there are findings that they say) loneliness and anger is a risk factor of heart disease. Loneliness is emotion. Anger is emotion.  But the reason why you get angry is because  maybe you feel world is after you. You have to protect yourself.
You look at today's political climate, a lot of anger, and a lot of anger is because people feel they have to protect themselves but anger does not protect. Anger destroys things but nevertheless our human natural tendency is to get angry to protect yourself. Why do you need to protect yourself? You feel unsafe. Why do you feel unsafe? Because you don't know who you are. You are identifying somebody who you're not and because you need to protect that, who you are not, and then it becomes a threat when you begin to have some glimpse of experiences of who you are. This is deeply rooted to the sense of disconnectedness, lack of  knowing yourself, having pain identity causing negative emotions, causing the sense of anger, loneliness, causing physical conditions of restricting breath and causing the heart problems. It goes kind of from space to energy to the physical level.
In a reverse situation also you do that. You bring the awareness, space where it's lacking. The heart needs space, right? If the arteries are blocked that's where the heart attack happens. If emotions are blocked that's where you don't feel the warmth, you don't connect with somebody, you don't fall in love, you don't feel love. You need to have space. In the meditation, one of the most important part of the meditation is to create the awareness of the space. That's why spacious, luminous, warm hug has deep philosophy. A lot of literature, deep philosophy, unbroken transmissions, traditions are all in this and out there.
NP: Spacious, luminous, warm hug. That's an amazing new bit of wisdom from this talk. Rinpoche, we're going to do another one of these talks on June 20th. We're going to be kind of taking the next step on this idea of turning pain into the path. What do you think we'll cover in that talk? Where's the next place we're going to go?
TWR: I think we'll see the feedback from the audience and see what people are asking. Based on the collective energy of the audience, whatever they seem interested to hear. It's possible we'll just continue from this and do another session of meditation. It's possible we can talk about working with fear, which is one really important element of the pain of our mind. I think that will be good.
NP: Great. Yeah. Everyone who's watching this right now, just know – please leave your comments. Write in to us. Let us know how you're feeling. Let us know what you want to know more about and we will make sure that we try to cover what your questions are in the next video.
TWR: Yes. I've also been doing Facebook teachings on Tenzin Wangyal Rinpoche on my Facebook live, also a number of other teachings so you're welcome to join that and I'm looking forward for that next session with you.
NP: Great. Rinpoche, how do they find you on Facebook? What's the page?
TWR: It's Tenzin Wangyal Rinpoche, that's the name on the Facebook page and you will see if you click that, there will be information about now June 6th so it's an interesting number, six, six till eight, eight. June 6th through August 8th every week, every Tuesday we'll be teaching on dream yoga on Facebook live and this will be translated into 17 languages.
NP: Wow.
TWR: If anybody around the world, if you feel like English is not your native language, there are other options, too.
NP: That's amazing. Dream yoga?
TWR: Yes, it's dream yoga.
NP: Oh wow.
TWR: Basically everybody who will be participating in there will be committed to the next two months – following the instructions, practicing every night before you go to sleep. One third of our lifetime we fall asleep, so on average 20 to 25 years you sleep. You live this 25 years of lifetime where you don't know what's happening. This is the way to find out what it is and what you can do and how you can even grow and heal in dreams. That's the idea.
NP: Oh my gosh. I'm signing up for that immediately. My dreams are crazy and I'm trying to figure out how to better work with them so that sounds incredible. Rinpoche, it's an honor to be here with you. It's always, always a pleasure talking with you and I cannot wait until we meet again next month to go deeper into how to turn pain into the path. This has been really beneficial for me and I'm sure people watching are really grateful as well.
TWR: Thank you. Thank you so much. Thank you, everybody.