If there's one word in the English language that has the power to stop anyone in their tracks, it's "cancer". This shadowy disease can impact your life and the lives of everyone you know, even if you don't have it.
My grandmother died of cancer when I was 16 years old and it hit me like a bolt of lightning. Her passing shook us as a family and still hurts to think about today.
Without knowing the specifics, I can safely say that you've endured a similar loss in your circle. After all, it's now estimated that 1 in 3 of us will be diagnosed with cancer in our lifetime.
According to modern medicine, there's still no "cure". But what about native medicine?
Is it possible that the world's forests hold remedies that pharmaceutical companies and Western doctors have yet to learn about?
In the years since creating The Sacred Science film, the team and I have been searching beyond the Amazon, exploring other herbs used by indigenous people around the world to treat a variety of illnesses, including cancer.
Below, I'd like to share three promising plants with you that are currently being studied for their anti-cancer effects.
To be clear, this piece is for your research only. This is not medical advice. Our goal is to create an ongoing dialogue within the Sacred Science community, where hopeful new natural remedies and treatments can be openly discussed.
3 Promising Native Remedies For Cancer

MORINGA: (Moringa oleifera)
In many African languages, this plant is called nebedaye or "never-die. It's a tough, drought-resistant tree with documented medicinal use that dates back to 2000 B.C. In fact, practitioners of Ayurvedic medicine have said that this tree can be used to prevent and treat over 300 diseases! Considering it provides more than 30 natural anti-inflammatory agents and contains more than 40 different antioxidants, it's no wonder that it's referred to as the Miracle Plant.
If that's not enough, all parts of the plant can be used for medicinal purposes, including the root, seeds, flowers, bark, and leaves. And compared to naturally healthy foods that might already be in your kitchen or on your shopping list, Moringa leaves contain:
-7 times the vitamin C found in oranges
-4 times the calcium in milk
-2 times the protein of yogurt
-4 times the vitamin A in carrots
-25 times the iron in spinach
-3 times the potassium in bananas
According to a study in The International Journal of Molecular Sciences the extract from Moringa leaves showed greater cytotoxicity for tumor cells than for normal cells, strongly suggesting that it could be an ideal anticancer therapeutic candidate specific to cancer cells. Furthermore, both hot water and other extracts from Moringa leaves inhibited the viability of acute myeloid leukemia, acute lymphoblastic leukemia and hepatocellular carcinoma cells, without any toxic effects against normal mononuclear cells.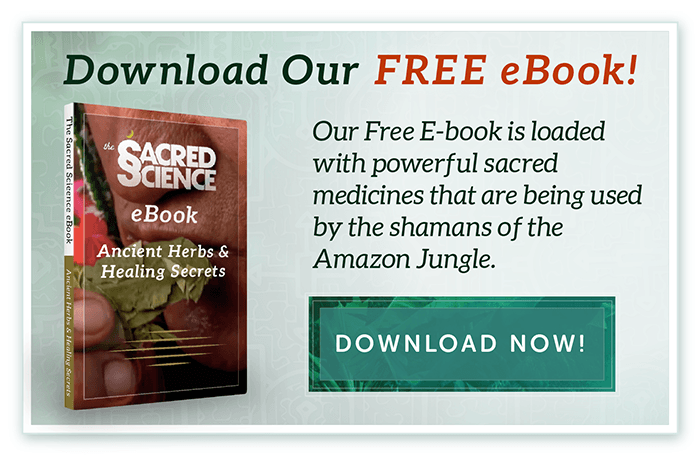 BLOODROOT – (Sanguinaria Canadensis)
The initial healing properties of this plant, known as "red puccoon" were learned from American Indians living near Lake Superior on the border of the United States and Canada. Bloodroot was and still is revered for its root sap, that looks and feels a lot like actual blood.
The crimson exudate from its roots is called "war paint" in some Native American cultures and it has shown anti-cancer and anti-inflammatory properties in animals, indicating that it may halt the development of tumors. It's a primary ingredient in a formula known as Black Salve, which many proclaim is an effective anti-skin cancer poultice. Applied topically, bloodroot destroys cells and skin tissue, and therefore must be used with extreme caution and under expert care.
Recent research also points to the effectiveness of Sanguinarine, an alkaloid found in Bloodroot, as an anti-cancer agent, which works in various ways to inhibit the growth of cancer cells.
While its anti-cancer properties are promising, the wrong dosage of bloodroot can be dangerous, causing inflammatory and painful reactions.
According to the NYU Langone Medical Center, "In large doses, it causes nausea and vomiting, and even at lower dosages it has been reported to cause peculiar side effects in some people, such as tunnel vision and pain in the feet."
This herb should only be used under the supervision of a medical professional.
CANNABIS: (Cannabis sativa, Cannabis indica)
Like so many other plants that pop up close to where they are needed to help humans, this "weed" pretty much grows anywhere, and like most other overlooked weeds, can help with countless illnesses. But due to its psychoactive properties and the "War on Drugs" in the west, you may have been convinced to think otherwise.
Its potential as an alternative cancer treatment was first documented in 1974, but things have been back and forth since, according to the NORML Foundation. Here is a brief Review of Recent Research on Medical Marijuana over the past 15 years.
At a basic level, the plant contains THC and Cannabinoids that have antioxidant properties, which help against cancer. They also bind specifically to receptors in our body – THC with the nervous system, and Cannabinol with the immune system. Essentially, this unique binding is what helps to keep everything running smoothly inside, or getting it back to normal, when there's a threat from the outside or from within. To learn more, here's a great introduction to The Endocannabinoid System, which really tells a compelling story about how a single plant can treat so many conditions, including cancer, while being so safe.
To put things in perspective, there are more than 20,000 scientific journal articles about Marijuana or Cannabis.
We all know someone who has been affected by cancer, and yet the cure could be much closer than we realize. It's possible that we could even grow it in our backyards. We must learn as much as we can about native medicine, protect the bioregions where they grow, and support the native wisdom-keepers and healers who work with these plants.
There is still so much to discover. Or remember.
A cautionary note: if you or someone you love is facing cancer, it's important to work with a qualified herbalist for clear and informed guidance. Herbal medicines, including the ones listed above, may have side-effects and could conflict with any pharmaceutical drugs you're taking.
Stay curious,
Nick Polizzi